Jurassic World: Dominion Dominates Fandom Wikis - The Loop
Play Sound
For the Case Zero case, see Zombrex 1 (Case Zero) and Case 0-1: Find Katey Zombrex.
Katey has been infected since the outbreak in Las Vegas and she needs a dose of Zombrex every 24 hours to stay alive. Without any in hand, Chuck must venture out into the zombie-infested Fortune City. There is a pharmacy in Roy's Mart, at the east side of Royal Flush Plaza, which may have Zombrex.
The player must travel to Roy's Mart, find Zombrex, and return it to Katey between 7:00 and 8:00am. Identical to all days, this task is split into two parts, Find Katey Zombrex and once the Zombrex is found, Katey will need Zombrex. At Roy's Mart, a cutscene shows three Looters ransacking the place for valuables and terrorizing the pharmacist for a safe. Chuck interrupts them asking for Zombrex. The looters close in on him asking him for money.
The player must kill all three looters in order to find the Pharmacy Key, which unlocks the room behind the counter, where a dose of Zombrex is on the table. From here, the player has the option of whether or not to save Denyce, the pharmacist. Chuck will receive a 5,000 PP Join Bonus and if she makes it back to the Safe Room alive, an additional 10,000 PP Escort Bonus.
A cutscene follows of Sullivan asking Chuck where he found the survivor(s)[note 1] and Chuck tells him that there are more. Sullivan tells Chuck he doesn't want any infected getting into the Safe Room.
After this, depending on how much time the player spent out of the Safe Room, Katey may be due for her next dose of Zombrex. After she is given the injection, Case 1-1: Big News begins. Find Katey Zombrex
[
]
Acquire food and save the game
[
]
After the six minute multiple cutscenes Chuck is in the security room.

A tutorial screen appears explaining Co-op Mode.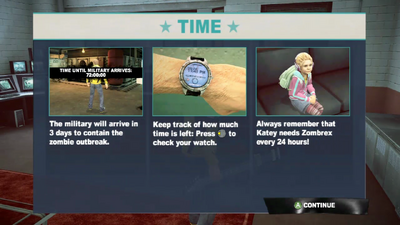 A second tutorial screen appears explaining time.

Chuck receives the Map and transceiver.

To Chuck's left on a small counter is some Milk and Orange Juice. Pick up both if Chuck has the inventory space.

Sullivan is just outside of the security room, guarding the security door.

Although not necessary, Chuck can speak to Sullivan.
Sullivan Those doors are locked tight. No zombies will be getting in here.

To the right of the security door are survivors Tamara and Kirby.

Between them is a restroom door, which is also a save point.

Save your game now.

Exit the security room
[
]
Travel down the hallway past distraugt Kirby.

Ahead is Playboy bunny Lulu to the right of some stairs.

Travel down the stairs.

To the right is an enormous ventilation system. Click

to examine the vent door. Another cutscene begins.

Vent cutscene
[
]
Chuck finds a way out.

Chuck opens the vent door


He examines the inside of the vent.


He looks back towards Sullivan's location upstairs.


He turns back to the vent with his signature smile.


Chuck opens up the external vent door.


He climbs out.


Chuck is now in the Royal Flush Plaza.
Stacey's first call
[
]
Follow the guide arrow to the right.[1] There are exit signs also to guide Chuck.

As Chuck is leaving, he will receive an urgent transceiver call.
Answer the call by pressing

Chuck's first orientation call

Stacey

: Chuck, I found a travel brochure for Fortune City. It says that right now you are in the

Royal Flush Plaza

.

Roy's Mart

is on the other side of the mall.
The Goal is the red flashing question mark at Roy's Mart on the map. The map can be accessed by pressing

.

Continue down the hallway, to Chuck's right is a locked maintenance room.

Go through the double doors with the exit sign above them.

There is a Sledge Hammer on the right, leaning against a cardboard box. The sledge hammer is one of the most powerful non-combo weapons.

Exit out into Royal Flush Plaza.

Travel to Roy's Mart
[
]
Turn right and follow the guide arrow to Roy's Mart.

Travel to Roy's Mart.

As Chuck approaches Roy's Mart, he may notice the green health bar of Denyce through the door. Open the door and a cutscene begins with the looters.

Looters cutscene
[
]
Three Looters are ransacking the Roy's pharmacy and terrorizing the pharmacist Denyce. When Chuck interrupts them they attack.
Looters ransacking the pharmacy

Looters are ransacking the pharmacy.


Chuck: Oh, great.


Looter: I know you're holding out on us! Where's the money?! Where's the safe?!


Come on! Don't lie to me!


Denyce: We don't have a safe!


Looter: Don't lie to...


Chuck: Hey!


Chuck: Hey! Dirtbag! Let the lady go.


Looter: Why don't you mind your own business old man?


Chuck: Exactly what I'm doing.


Chuck: I'm just here looking for some Zombrex.


Looter: Well, you're definetly gonna need some painkillers when I'm done with you.


Chuck: Well, talking to you is giving me a headache.


Looter: Oh yeah? What say you give me some money, and I'll go get some for you?


Looter: How about it Grandpa? You got any money?


Looter 2: Yeah - give us some money, Grandpa!


Looter 3: We'll help you out.
Battling the looters
[
]
Finding the pharmacy key
[
]
After Chuck kills the three looters, another cutscene begins. Chuck finds a pharmacy key for the door behind the counter.
Digging through carcasses

Chuck looks over the bodies of the looters


He walks over to one looter.


Chuck grabs a key.


He looks up and sees the door marker "employees only" behind the counter.
Chuck has acquired the Pharmacy Key

Talk to Denyce
[
]
Jump over the counter and talk to Denyce (

). She will quickly join.
Denyce Joins

Speak to Deynce by pressing


Denyce: I thought they were going to kill me!


Chuck: It's okay. You're safe now. Are you hurt?


Denyce: I think I'm okay. Thank you so much. You got here before they…. Before they…


Chuck: Listen, there's a Safe House where you'll be safe. Follow me and I'll take you there.


Deynce will join.
Escorting Survivors tutorial
[
]
When Deynce joins, a tutorial screen appears.
There are survivors of the outbreak scattered throughout Fortune City. Escort anyone you find back to the Safe House, though some might not come with you willingly...
Upon rescuing survivors, you will receive a large PP bonus!
Open the pharmacy door
[
]
Open the pharmacy door. The pharmacy key is used automatically.

The Zombrex is on the counter.

Pick up the Zombrex.

When Chuck Greene first picks up Zombrex in Dead Rising 2, two information screens explain how Zombrex works.
Zombrex is a drug that stops the infected from becoming zombies. It is high in demand, expensive, and hard to find.
The new and improved Zombrex formula now lasts 24 hours![2]
Zombrex overdoses are deadly, users must never take it earlier than prescribed.
The Zombrex Counter on your HUD [ Head-up display ] shows how much you have at all times.
Katey needs Zombrex everyday between 7:00AM and 8:00AM. If she doesn't get it, she will die.
Check your watch to see if it's time for Katey's next dose.
Katey will need Zombrex
[
]
Urgent call from Stacey
[
]
Stacey makes an urgent call immediately after Chuck picks up the Zombrex. Press
.

Chuck's watch screen shows how much time is left.

Escort Denyce
[
]
Chuck's goal is the safe house, marked as a bright red question mark on the map.

Escort Denyce back to the safe house.

Set waypoints along the way by holding

and pressing

.

Wait until there is a green door icon above Deynce's head before entering the safe house. The green door icon shows that the survivor is close enough that they will follow Chuck into the safe house.

Reward
[
]
Denyce Rescued

Denyce: Those guys were stealing everything. Thanks for saving my life.


Escorting Denyce awards Chuck 10,000 Prestige Points
Sullivans warning
[
]
After successfully escorting Denyce, there is a brief cutscene with Sullivan in which he says the safe house cannot afford to have any infected admitted.
Giving Katey Zombrex
[
]
Chuck must give Katey Zombrex between 7:00 am and 8:00 am. This gives Chuck plenty of time to explore the mall as he waits for 7:00 am.
After Chuck gives Katey Zombrex, Case 1-1: Big News begins, which is a cutscene only. Chuck and Stacey are watching the television news in the safe house.

{{continue|Case 1-1
Trivia
[
]
Images
[
]
Notes
[
]
References
[
]
See also
[
]
External links
[
]