Dead Rising Books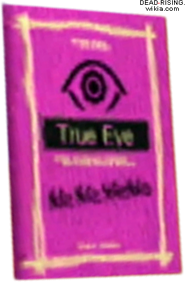 The Willamette Parkview Mall has five bookstores, which have 24 books that will increase Frank's abilities in different ways, so long as they are in his inventory.[1]
Different books have different effects, books with a:
PP+ symbol - give Frank a boost in Prestige Points from photography or defeating zombies.
Skill + symbol allow Frank to learn skateboarding and cycling skills, or skills that can make the escorting of Survivors easier.
Heal + symbol boost the restorative power of food (multiple Books can be held in tandem to further increase the bonus percentage).
Item + increase durability of certain books. Like the Heal+ Books, holding multiple Books with the same effect can increase this effect.
Press
when Frank is holding the book in his hands to see the book's effects.[2]
Multiple books with the same effect
Edit
In this list below is the following:
(x2) = the item can be effected by two books at the same time.
(x3) = the item can be effected by three books at the same time.
For Example
If Frank is carrying these three books, the Hedge trimmer (x3) can have simultaneously its:
durability increased by the Criminal Biography Book,
durability increased even more by the Engineering Book,
durability increased yet even more by the Lifestyle Magazine.
As an example of a book's abilities, the hedge trimmer was tested:
No book: 20 hits before destroyed
One books: 60 hits
Two books: 180 hits[3]
Book List
Edit
the names below are from the Official Matze stinkt Dead Rising strategy guide.[4]
External links
Edit
General information
Edit
Items lists and maps
Edit
Food lists
Edit
Infinity Mode
Edit
Weapons lists
Edit
Dead Rising: Items Guide, GameFAQs, (March, 2008).
Dead Rising: Weapon Guide, GameFAQs, (November 2, 2006).
Malcom, Dead Rising Hidden Moves FAQ, IGN, (September 13, 2006).
Walkthroughs
Edit
Community content is available under
CC-BY-SA
unless otherwise noted.