Jurassic World: Dominion Dominates Fandom Wikis - The Loop
Play Sound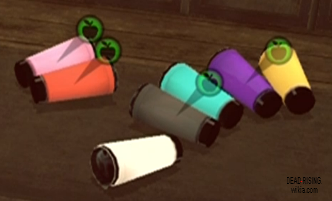 In certain locations, Chuck Greene can find Blenders. Combine two food items in the Blender and Chuck will get a special type of juice back. There are nine varieties of Juices, and each has a "special" or "power-up" effect on Chuck. These effects range from useful effects such as making Chuck temporarily invincible to oddball abilities, such as allowing Chuck to spit fire (Spitfire). All of these Juices restore large amounts of health in addition to providing certain effects, and Chuck can use any of them as an ingredient in the Blender to make another type of juice.

NOTE: All recipe combinations are found here: Dead Rising 2 Recipes/All
Blender Locations
[
]
How to mix two items in a blender
[
]
In order to mix two items together in a blender Chuck must first switch items in his inventory until he gets to the first ingredient. With the ingredient in hand go to the blender, and when the yellow indicator is highlighted and tells you to "Examine" the blender. This puts Chuck's first item in the blender. Chuck cannot get the item back out once he puts it in.
To add the second food item switch to the food item and Examine the blender again.
The blender will whirl, then spit out a colored thermos-looking container. The color is indicative of the Juice Chuck made, and it will have the name in parenthesis when Chuck walks close enough to it.
Two mixed drinks
[
]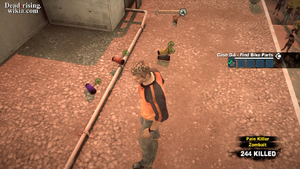 Chuck can use two drinks at the same time.

Mixtures
[
]
Name
Result
Lasts
Real
time
Secondary benefit
Energizer
Chuck cannot be injured.
10 seconds[2]
full heal
Nectar
Attracts any nearby queens to Chuck. Spawns one queen nearby.
6 minutes
full heal
Pain Killer
Chuck receives half physical damage.
1 minute[2]
full heal
Quick Step
Increases Chuck's speed drastically
1 minute
full heal
Randomizer
Gives chuck stomach pains and makes him puke. Throws up three times. See article.
3 minutes
full heal
Repulse
Zombies can not attack you, and wont try to attack you. Overrides Zombait while in effect.
1 minute
full heal
Spitfire
Changes Chuck's harmless ability to spit at zombies into a short range flame burst.
1 minute
full heal
Untouchable
Chuck cannot be grabbed by Zombies but can still suffer damage from their attacks.
1 minute
full heal
Zombait
Zombies are more attracted to Chuck which can aid in distracting zombies from survivors.
1 minute
full heal
Number of available combinations
[
]
Below is the number of available mixed juice combinations:
105 Energizer recipe combinations
171 Quikstep recipe combinations
147 Nectar recipe combinations
636 Randomizer recipe combinations
71 Pain killer recipe combinations
110 Repulse recipe combinations
181 Spitfire recipe combinations
210 Untouchable recipe combinations
199 Zombait recipe combinations[1]
Recipes
[
]
NOTE: All recipe combinations are found here: Dead Rising 2 Recipes/All
By combining two items in a blender, Chuck can create mixtures that will give him special abilities for a short time.[3]
Trivia
[
]
Images
[
]
Notes
[
]
See also
[
]
External links
[
]