Crislip's Home Saloon is a North Plaza store in Dead Rising. The psychopath Cliff Hudson is found here during the scoop The Hatchet Man. Crislip's has the largest amount of weapons in the game.
Prestige point stickers
Edit
There are three prestige point sticker in Crislip's.
Crislip's Home Saloon main sign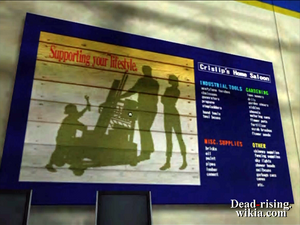 "Supporting your lifestyle" sign behind the counter.
"Gardening as a pastime" sign in the southwest corner, near the Excavators.
Description on the map page: We stock everything from everyday hand tools to specialized large scale tools for those tough jobs.
Zombies cannot climb over the counter or the railing, although they often jab Frank across the railing. This gives Frank a great opportunity to take close up pictures of the zombies.
There is a poster advertisement in In The Closet for David Crislip at the Python Countdown Live, December 31, '06.
Ad outside of the door of Crislip's
Store directory inside the store
External links
Edit
Community content is available under
CC-BY-SA
unless otherwise noted.